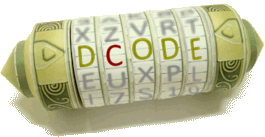 Search for a tool
Pig Latin
Tool to translate Pig Latin, an Anglo-Saxon slang similar to French Louchébem, adding the syllable 'ay' at the end of words.
Pig Latin - dCode
Tag(s) : Steganography
Share
dCode and more
dCode is free and its tools are a valuable help in games, maths, geocaching, puzzles and problems to solve every day!
A suggestion ? a feedback ? a bug ? an idea ? Write to dCode!
Pig Latin
Pig Latin Decoder
Pig Latin Encoder
Answers to Questions (FAQ)
How to encrypt using Pig Latin cipher?
Pig Latin modifies words by applying 2 rules:
- If the word starts with a vowel, add a hay, way or yay at the end of the word
Example: ENCODER becomes ENCODER-WAY
- if the word begins with one or more consonants, move the consonant (s) to the end of the word, and add ay.
Example: SLANG becomes ANG-SLAY
dCode does not apply a rule for words less than 3 letters.
How to decrypt Pig Latin cipher?
The decryption of Pig Latin consists of finding the original words of the text by getting rid of the suffix -AY and possibly repositioning the consonants at the beginning of the word:
Example: IG-PAY devient PIG
How to recognize a Pig Latin ciphertext?
The message contains strange words that end in AY.
Source code
dCode retains ownership of the online 'Pig Latin' tool source code. Except explicit open source licence (indicated CC / Creative Commons / free), any 'Pig Latin' algorithm, applet or snippet (converter, solver, encryption / decryption, encoding / decoding, ciphering / deciphering, translator), or any 'Pig Latin' function (calculate, convert, solve, decrypt / encrypt, decipher / cipher, decode / encode, translate) written in any informatic language (Python, Java, PHP, C#, Javascript, Matlab, etc.) and no data download, script, copy-paste, or API access for 'Pig Latin' will be for free, same for offline use on PC, tablet, iPhone or Android ! dCode is free and online.
Need Help ?
Please, check our dCode Discord community for help requests!
NB: for encrypted messages, test our automatic cipher identifier!
Questions / Comments
Summary
Similar pages
Support
Forum/Help

Keywords
pig,latin,slang,ay
Links
Source : https://www.dcode.fr/pig-latin-language
© 2021 dCode — The ultimate 'toolkit' to solve every games / riddles / geocaching / CTF.