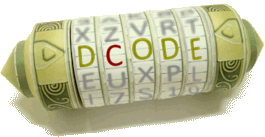 Search for a tool
Irreducible Fractions
Tool to reduce fractions in lowest term. A Fraction in Lowest Terms (Irreducible Fraction) is a reduced fraction in shich the numerator and the denominator are coprime (they do not share common factors)
Irreducible Fractions - dCode
Tag(s) : Arithmetics, Symbolic Computation
Share
dCode and more
dCode is free and its tools are a valuable help in games, maths, geocaching, puzzles and problems to solve every day!
A suggestion ? a feedback ? a bug ? an idea ? Write to dCode!
Irreducible Fractions
Simplify Fractions in Lowest Term
Decimal to Fraction in Lowest Term Converter
Tool to reduce fractions in lowest term. A Fraction in Lowest Terms (Irreducible Fraction) is a reduced fraction in shich the numerator and the denominator are coprime (they do not share common factors)
Answers to Questions
Source code
dCode retains ownership of the online 'Irreducible Fractions' tool source code. Except explicit open source licence (indicated CC / Creative Commons / free), any algorithm, applet or snippet (converter, solver, encryption / decryption, encoding / decoding, ciphering / deciphering, translator), or any function (convert, solve, decrypt / encrypt, decipher / cipher, decode / encode, translate) written in any informatic language (PHP, Java, C#, Python, Javascript, Matlab, etc.) no data, script, copy-paste, or API access will be for free, same for Irreducible Fractions download for offline use on PC, tablet, iPhone or Android !
Need Help ?
Please, check our community Discord for help requests!
Questions / Comments
Source : https://www.dcode.fr/irreducible-fraction
© 2021 dCode — The ultimate 'toolkit' to solve every games / riddles / geocaching / CTF.