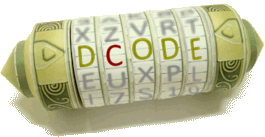 Search for a tool
World Flags
Tools to recognize a world flags (country, region, group) from an image or a description of it (its format, its colors, its decomposition into lines, rectangles, squares, etc.)
World Flags - dCode
Tag(s) : Image processing
Share
dCode and you
dCode is free and its tools are a valuable help in games, maths, geocaching, puzzles and problems to solve every day!
A suggestion ? a feedback ? a bug ? an idea ? Write to dCode!
World Flags
Recognize a Flag
Function temporarily disabled but you will find a selection of other similar sites below
Tools to recognize a world flags (country, region, group) from an image or a description of it (its format, its colors, its decomposition into lines, rectangles, squares, etc.)
Answers to Questions
How to recognize a flag?
The recognition of flags requires the provision of a database of flags and to obtain manually or automatically data on them (their layout, size, colors, etc.)
The search criteria can be various: first the colors (red, white, blue, etc.), then the content layout: horizontal or vertical bands, cross, diagonal, etc. but also if drawn elements have been added like coats of arms, weapons, animals, stars, crosses, triangles or other geometric figures etc.
Example: A flag with 3 horizontal bands from left to right: blue, white, red. This is the flag of France
What are the best online sites to recognize a flag?
There are several online knowledge bases here is a selection:
Criteria search on Flags.net here (link)
Search by format and colors on FlagID here (link)
Search by questions on Flag-Finder here (link)
Source code
dCode retains ownership of the source code of the script World Flags online. Except explicit open source licence (indicated Creative Commons / free), any algorithm, applet, snippet, software (converter, solver, encryption / decryption, encoding / decoding, ciphering / deciphering, translator), or any function (convert, solve, decrypt, encrypt, decipher, cipher, decode, code, translate) written in any informatic langauge (PHP, Java, C#, Python, Javascript, Matlab, etc.) which dCode owns rights will not be released for free. To download the online World Flags script for offline use on PC, iPhone or Android, ask for price quote on contact page !
Questions / Comments
Lire en Français
Summary
Similar tools
Support
Forum/Livechat

Sponsored ads
Keywords
flag,search,recognition,country,color
Links
Source : https://www.dcode.fr/flags
© 2020 dCode — The ultimate 'toolkit' to solve every games / riddles / geocaches. dCode