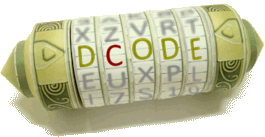 Search for a tool
Extractor de Acrósticos
Herramienta para extraer el contenido de un acróstico. Extractor que permite revelar el contenido oculto de un texto.
Extractor de Acrósticos - dCode
Tag(s) : Steganography, Data Processing
Share
dCode and more
dCode is free and its tools are a valuable help in games, maths, geocaching, puzzles and problems to solve every day!
A suggestion ? a feedback ? a bug ? an idea ? Write to dCode!
Extractor de Acrósticos
Extraer texto oculto de un acróstico
Answers to Questions (FAQ)
¿Qué es un acróstico? (Definición)
Un acróstico es un texto/poema que contiene un segundo texto oculto, por ejemplo con las iniciales de cada verso o de cada palabra.
¿Cuáles son los elementos que se extraen del acróstico?
Es posible extraer múltiples elementos (no exhaustivos) de un texto, documento o poema escrito en forma de acróstico.
Ejemplo: Sea el texto ABC DEFGH I JK,
LMNOPQ RSTU,
VW XYZ.
— La letra inicial de una línea.
Ejemplo: Leyendo (verticalmente): ALV
— La letra inicial de una palabra o varias palabras.
Ejemplo: Las primeras letras son ADIJLRVX
— Las letras intermedias de palabras o líneas (también llamadas mesostiche)
— Las últimas letras de una palabra o una línea (también llamada telestiche)
— La primera y la última letra de una línea (también llamada acroteleuton)
Generalmente, el texto oculto es un nombre, una contraseña, un nombre, un código secreto, etc. El ejemplo predeterminado de dCode proviene de un salmo de George Sand para Alfred de Musset. Otros autores son conocidos por sus acrósticos como Edgar Allan Poe.
¿Cómo ocultar una frase con un poema?
Toma una de las técnicas anteriores y deja volar tu imaginación. Esta función se puede automatizar con modelos de lenguaje e inteligencia artificial.
Source code
dCode retains ownership of the "Extractor de Acrósticos" source code. Except explicit open source licence (indicated Creative Commons / free), the "Extractor de Acrósticos" algorithm, the applet or snippet (converter, solver, encryption / decryption, encoding / decoding, ciphering / deciphering, breaker, translator), or the "Extractor de Acrósticos" functions (calculate, convert, solve, decrypt / encrypt, decipher / cipher, decode / encode, translate) written in any informatic language (Python, Java, PHP, C#, Javascript, Matlab, etc.) and all data download, script, or API access for "Extractor de Acrósticos" are not public, same for offline use on PC, mobile, tablet, iPhone or Android app!
Reminder : dCode is free to use.
Cite dCode
The copy-paste of the page "Extractor de Acrósticos" or any of its results, is allowed (even for commercial purposes) as long as you cite dCode!
Exporting results as a .csv or .txt file is free by clicking on the export icon
Cite as source (bibliography):
Extractor de Acrósticos on dCode.fr [online website], retrieved on 2023-12-05, https://www.dcode.fr/extractor-acrostico
Summary
Similar pages
Support
Forum/Help

Keywords
acrostico,mesostiche,telestiche,acroteleuton,primera,palabra,linea,letra,poema,salmo,alfred,musset,george,sand,edgar,allan,poe
Links
https://www.dcode.fr/extractor-acrostico
© 2023 dCode — The ultimate 'toolkit' to solve every games / riddles / geocaching / CTF.
▲