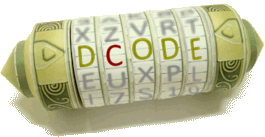 Search for a tool
Barcodes Country Codes
Tool to identify the origin of products using barcodes. Quickly find the country of origin associated with a specific barcode.
Barcodes Country Codes - dCode
Tag(s) : Notation System
Share
dCode and more
dCode is free and its tools are a valuable help in games, maths, geocaching, puzzles and problems to solve every day!
A suggestion ? a feedback ? a bug ? an idea ? Write to dCode!
Barcodes Country Codes
Search Country by Barcode
Answers to Questions (FAQ)
What is a barcode country code? (Definition)
Barcodes are a sequence of numbers that identify products. The best known barcode is the GTIN (or EAN), certain numbers of which identify the country of origin (the one where the product was registered).
Not all barcodes are GTINs and therefore not all barcodes contain the country code of the product.
How to read a country code from a barcode?
To read a country code in a barcode, extract the first 3 digits to allow the identification of the country of the product.
Example: Codes from 300 to 379 indicate France
What is GS1 global system?
GS1 is an international organization that develops and maintains standards for barcode systems including GTIN/EAN.
GS1 is, among other things, responsible for assigning country codes.
What does 'reserved' mean?
When the barcode country code contains the word reserved, it means that the digit slot is reserved for future use.
This may indicate that new codes will be assigned to new countries in the future or that the location has been reserved for specific uses.
How are country codes assigned?
Country codes are assigned by the GS1 organization to member countries and territories based on their requests and needs.
Do countries share the same code?
Some countries share the same barcode country code, which can sometimes lead to confusion.
Example: United States and Canada share codes 000 to 019
Source code
dCode retains ownership of the "Barcodes Country Codes" source code. Except explicit open source licence (indicated Creative Commons / free), the "Barcodes Country Codes" algorithm, the applet or snippet (converter, solver, encryption / decryption, encoding / decoding, ciphering / deciphering, breaker, translator), or the "Barcodes Country Codes" functions (calculate, convert, solve, decrypt / encrypt, decipher / cipher, decode / encode, translate) written in any informatic language (Python, Java, PHP, C#, Javascript, Matlab, etc.) and all data download, script, or API access for "Barcodes Country Codes" are not public, same for offline use on PC, mobile, tablet, iPhone or Android app!
Reminder : dCode is free to use.
Cite dCode
The copy-paste of the page "Barcodes Country Codes" or any of its results, is allowed (even for commercial purposes) as long as you cite dCode!
Exporting results as a .csv or .txt file is free by clicking on the export icon
Cite as source (bibliography):
Barcodes Country Codes on dCode.fr [online website], retrieved on 2023-12-05, https://www.dcode.fr/barcodes-country-codes
https://www.dcode.fr/barcodes-country-codes
© 2023 dCode — The ultimate 'toolkit' to solve every games / riddles / geocaching / CTF.
▲