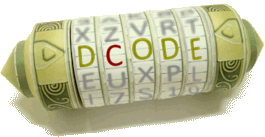 Search for a tool
INSEE French City Code
Tool to find French INSEE city code or search city name from INSEE code, but also postal codes correspondances for a given french city.
INSEE French City Code - dCode
Tag(s) : Geography, Notation System
Share
dCode and more
dCode is free and its tools are a valuable help in games, maths, geocaching, puzzles and problems to solve every day!
A suggestion ? a feedback ? a bug ? an idea ? Write to dCode!
INSEE French City Code
From an INSEE city code
From a French city name
Answers to Questions (FAQ)
What is the french city INSEE code? (Definition)
The French INSEE code (or city code) is administratively called official geographic code (in France) and is defined by the INSEE institute. It applies to French towns, townships, boroughs, counties, regions, and overseas territories.
The INSEE code consists of 5 digits, the first 2 are the number of the French department the town belongs to and the other 3 are a code given to the town.
How to find a french city INSEE code?
dCode retrieves a code from the name of a city, but also to find a city from its code.
Example: 02468 gives the French city Marle
Example: Caen gives the INSEE code 14118
The current nomenclature does not allow for more than 10,000 towns by department.
How to find an INSEE code for an old city?
Cities sometimes change names or disappear or regroup. dCode manages the codes of all cities, even with old town names.
Municipalities in other countries (such as Algeria which was French) are not registered.
What is the town of birth code?
The commune of birth code is the INSEE geographic code. It is used in particular by the administration or social security.
What is the French city code?
The common code normally refers to the INSEE code, but it can erroneously refer to the postal code.
Source code
dCode retains ownership of the "INSEE French City Code" source code. Except explicit open source licence (indicated Creative Commons / free), the "INSEE French City Code" algorithm, the applet or snippet (converter, solver, encryption / decryption, encoding / decoding, ciphering / deciphering, translator), or the "INSEE French City Code" functions (calculate, convert, solve, decrypt / encrypt, decipher / cipher, decode / encode, translate) written in any informatic language (Python, Java, PHP, C#, Javascript, Matlab, etc.) and all data download, script, or API access for "INSEE French City Code" are not public, same for offline use on PC, mobile, tablet, iPhone or Android app!
Reminder : dCode is free to use.
Cite dCode
The copy-paste of the page "INSEE French City Code" or any of its results, is allowed as long as you cite dCode!
Cite as source (bibliography):
INSEE French City Code on dCode.fr [online website], retrieved on 2022-10-05, https://www.dcode.fr/insee-french-city-code
https://www.dcode.fr/insee-french-city-code
© 2022 dCode — The ultimate 'toolkit' to solve every games / riddles / geocaching / CTF.
▲