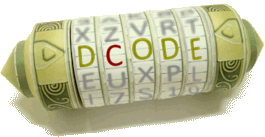 Search for a tool
INSEE French City Code
Tool to find French INSEE city code or search city name from INSEE code, but also postal codes correspondances for a given french city.
INSEE French City Code - dCode
Tag(s) : Geography, Notation System
Share
dCode and more
dCode is free and its tools are a valuable help in games, maths, geocaching, puzzles and problems to solve every day!
A suggestion ? a feedback ? a bug ? an idea ? Write to dCode!
INSEE French City Code
From an INSEE city code
From a French city name
Answers to Questions (FAQ)
How to find a french city INSEE code?
The French INSEE code (or city code) is administratively called official geographic code (in France). It applies to French towns, townships, boroughs, counties, regions, and overseas territories.
The INSEE code consists of 5 digits, the first 2 are the number of the French department the town belongs to and the other 3 are a code given to the town.
dCode retrieves a code from the name of a city, but also to find a city from its code.
Example: 02468 gives the French city Marle
Example: Caen gives the INSEE code 14118
The current nomenclature does not allow for more than 10,000 towns by department.
What is the French city code?
The common code normally refers to the INSEE code, but it can erroneously refer to the postal code.
Source code
dCode retains ownership of the online 'INSEE French City Code' tool source code. Except explicit open source licence (indicated CC / Creative Commons / free), any 'INSEE French City Code' algorithm, applet or snippet (converter, solver, encryption / decryption, encoding / decoding, ciphering / deciphering, translator), or any 'INSEE French City Code' function (calculate, convert, solve, decrypt / encrypt, decipher / cipher, decode / encode, translate) written in any informatic language (Python, Java, PHP, C#, Javascript, Matlab, etc.) and no data download, script, copy-paste, or API access for 'INSEE French City Code' will be for free, same for offline use on PC, tablet, iPhone or Android ! dCode is free and online.
Need Help ?
Please, check our dCode Discord community for help requests!
NB: for encrypted messages, test our automatic cipher identifier!
Questions / Comments
Summary
Similar pages
Support
Forum/Help

Keywords
insee,city,town,code,postal
Links
Source : https://www.dcode.fr/insee-french-city-code
© 2021 dCode — The ultimate 'toolkit' to solve every games / riddles / geocaching / CTF.