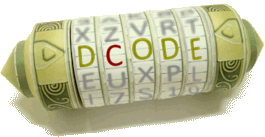 Search for a tool
Vowels and Consonants
Tool to distinguish vowels and consonants. Vowels and consonants are letters of the Latin alphabet that allow distinguishing sounds according to their pronunciations.
Vowels and Consonants - dCode
Tag(s) : Data Processing
Share
dCode and more
dCode is free and its tools are a valuable help in games, maths, geocaching, puzzles and problems to solve every day!
A suggestion ? a feedback ? a bug ? an idea ? Write to dCode!
Vowels and Consonants
Vowels and Consonants Detector
Find Words
Answers to Questions (FAQ)
What is the list of consonants?
The latin alphabet is made of 26 letters including 20 consonants.
Example: B C D F G H J K L M N P Q R S T V W X Z (bcdfghjklmnpqrstvwxz)
What is the list of vowels?
The latin alphabet is made of 26 letters including 6 vowels.
Example: A E I O U Y (aeiouy)
How to hide a binary message with vowels and consonants?
It is possible to binarize a message by indicating 0 (or 1) for each consonant (or vowel), it is a method used in steganography to hide a binary message.
Example: DCODE becomes in binary either 11010 or 00101
What are vowels and consonants for?
In phonetics, vowel produces a sound that lets air flow, while for the consonant, the tongue or mouth and lips make the sound.
What are a contoid and a vocoid?
To be precise terminologically, in phonetics, contoids are the equivalent of consonants and vocoids are the equivalent of vowels. Phonology talks about vowels and consonants, phonetics talks about vocoids and contoids.
Source code
dCode retains ownership of the "Vowels and Consonants" source code. Except explicit open source licence (indicated Creative Commons / free), the "Vowels and Consonants" algorithm, the applet or snippet (converter, solver, encryption / decryption, encoding / decoding, ciphering / deciphering, translator), or the "Vowels and Consonants" functions (calculate, convert, solve, decrypt / encrypt, decipher / cipher, decode / encode, translate) written in any informatic language (Python, Java, PHP, C#, Javascript, Matlab, etc.) and all data download, script, or API access for "Vowels and Consonants" are not public, same for offline use on PC, tablet, iPhone or Android !
The copy-paste of the page "Vowels and Consonants" or any of its results, is allowed as long as you cite the online source https://www.dcode.fr/vowels-consonants
Reminder : dCode is free to use.
Source : https://www.dcode.fr/vowels-consonants
© 2022 dCode — The ultimate 'toolkit' to solve every games / riddles / geocaching / CTF.
▲