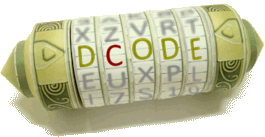 Search for a tool
Missing Consonants
Tool to find the missing consonants in a word or text whose consonants have been omitted. dCode displays all possible words with the requested consonants.
Missing Consonants - dCode
Tag(s) : Word Games
Share
dCode and more
dCode is free and its tools are a valuable help in games, maths, geocaching, puzzles and problems to solve every day!
A suggestion ? a feedback ? a bug ? an idea ? Write to dCode!
Missing Consonants
Missing Vowels Solver
Consonants Remover
Answers to Questions (FAQ)
How to find back consonants of a word?
A word whose consonants have been deleted is therefore only composed of vowels. The human brain has great difficulty in reconstructing the original word because missing consonants are crucial. The use of an automatic search tool to find removed consonants is essential but returns many words.
Example: EOE = DECODE (or dozens of other words)
For a human or computer like dCode, it is extremely complicated to find the expected word, only the context can help, otherwise it is necessary to try all the possible words in a given dictionary.
How to remove consonants from a word?
Removing the consonants from a word is deleting each letter among B,C,D,F,G,H,J,K,L,M,N,P,Q,R,S,T,V,W,X,Z, that is equivalent to keep only vowels.
The Y is, typographically speaking, a vowel, but in phonetics, it is can be considered as a consonant, and some people do not take it as a consonant, its removal is dependent on the choice of the user.
What words have no consonants?
In English, several words do not have consonants, among the most common : YOU, EYE, YOYO, A, etc.
What is the longest word without consonants
In English, the longest words composed only of vowels are EUOUAE (a music term) or AYEAYE (a lemur) with 6 letters.
Source code
dCode retains ownership of the "Missing Consonants" source code. Except explicit open source licence (indicated Creative Commons / free), the "Missing Consonants" algorithm, the applet or snippet (converter, solver, encryption / decryption, encoding / decoding, ciphering / deciphering, translator), or the "Missing Consonants" functions (calculate, convert, solve, decrypt / encrypt, decipher / cipher, decode / encode, translate) written in any informatic language (Python, Java, PHP, C#, Javascript, Matlab, etc.) and all data download, script, or API access for "Missing Consonants" are not public, same for offline use on PC, mobile, tablet, iPhone or Android app!
Reminder : dCode is free to use.
Cite dCode
The copy-paste of the page "Missing Consonants" or any of its results, is allowed as long as you cite dCode!
Cite as source (bibliography):
Missing Consonants on dCode.fr [online website], retrieved on 2022-10-05, https://www.dcode.fr/missing-consonants
Summary
Similar pages
Support
Forum/Help

Keywords
consonant,vowel,missing,removed,removal,deleted
Links
https://www.dcode.fr/missing-consonants
© 2022 dCode — The ultimate 'toolkit' to solve every games / riddles / geocaching / CTF.
▲