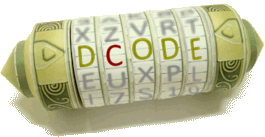 Search for a tool
Ithkuil Language
Ithkuil Language - dCode
Tag(s) : Notation System
Share
dCode and you
dCode is free and its tools are a valuable help in games, maths, geocaching, puzzles and problems to solve every day!
A suggestion ? a feedback ? a bug ? an idea ? Write to dCode!
Ithkuil Language
Sponsored ads

Ithkuil LanguageL
Answers to Questions
How to write/speak in Ithkuil?
The Ithkuil language was not designed to be spoken, it is a language in the form of thought experience, which describes a possible functioning of human language.
The Ithkuil phonetic system has 58 phonemes including 45 consonants each can be classified according to the way of being pronounced (articulation point and articulation mode) and 13 vowels each having 6 degrees of aperture (closed / open).
The writing system has evolved several times, it used a horizontal boustrophedon quite unclassifiable since it is not an alphabet (no direct correspondence between glyph and letter), nor a syllabary (no correspondence between glyph and pronunciation).
To learn Ithkuil see the Wikipedia page: (link) or the Reddit (link) (in English) or the official ithkuil website: (link)
Resource for writing in Ithkuil (phonetic): (link)
There is no resource for symbolic writing.
How to translate Ithkuil?
The language is constantly evolving, its translation is moving. Moreover, as indicated, there is no possible correspondence between the glyphs and an alphabet.
Resource for translating Ithkuil (phonetic): (link)
There is no resource for symbolic writing.
How to write/translate numbers in Ithkuil?
The ithkuil number system is based on $ 100 (centesimal), so it has 100 digits.
The ithkuil does not have a $ 0 $ digit, the $ 0 $ value is described as a negation of existence.
Table of numbers from 1 to 100 in ithkuil:
| | | | | | | | | | |
| --- | --- | --- | --- | --- | --- | --- | --- | --- | --- |
| 1 | llal | 2 | ksal | 3 | ţkal | 4 | pxal | 5 | sţal |
| 6 | cqal | 7 | nsal | 8 | fyal | 9 | xmal | 10 | mřal |
| 11 | llalik | 12 | ksalik | 13 | ţkalik | 14 | pxalik | 15 | sţalik |
| 16 | cqalik | 17 | nsalik | 18 | fyalik | 19 | xmalik | 20 | mřalik |
| 21 | llalök | 22 | ksalök | 23 | ţkalök | 24 | pxalök | 25 | sţalök |
| 26 | cqalök | 27 | nsalök | 28 | fyalök | 29 | xmalök | 30 | mřalök |
| 31 | llalek | 32 | ksalek | 33 | ţkalek | 34 | pxalek | 35 | sţalek |
| 36 | cqalek | 37 | nsalek | 38 | fyalek | 39 | xmalek | 40 | mřalek |
| 41 | llalîk | 42 | ksalîk | 43 | ţkalîk | 44 | pxalîk | 45 | sţalîk |
| 46 | cqalîk | 47 | nsalîk | 48 | fyalîk | 49 | xmalîk | 50 | mřalîk |
| 51 | llalak | 52 | ksalak | 53 | ţkalak | 54 | pxalak | 55 | sţalak |
| 56 | cqalak | 57 | nsalak | 58 | fyalak | 59 | xmalak | 60 | mřalak |
| 61 | llalûk | 62 | ksalûk | 63 | ţkalûk | 64 | pxalûk | 65 | sţalûk |
| 66 | cqalûk | 67 | nsalûk | 68 | fyalûk | 69 | xmalûk | 70 | mřalûk |
| 71 | llalok | 72 | ksalok | 73 | ţkalok | 74 | pxalok | 75 | sţalok |
| 76 | cqalok | 77 | nsalok | 78 | fyalok | 79 | xmalok | 80 | mřalok |
| 81 | llalük | 82 | ksalük | 83 | ţkalük | 84 | pxalük | 85 | sţalük |
| 86 | cqalük | 87 | nsalük | 88 | fyalük | 89 | xmalük | 90 | mřalük |
| 91 | llaluk | 92 | ksaluk | 93 | ţkaluk | 94 | pxaluk | 95 | sţaluk |
| 96 | cqaluk | 97 | nsaluk | 98 | fyaluk | 99 | xmaluk | 100 | ňal |
Source code
dCode retains ownership of the source code of the script Ithkuil Language online. Except explicit open source licence (indicated Creative Commons / free), any algorithm, applet, snippet, software (converter, solver, encryption / decryption, encoding / decoding, ciphering / deciphering, translator), or any function (convert, solve, decrypt, encrypt, decipher, cipher, decode, code, translate) written in any informatic langauge (PHP, Java, C#, Python, Javascript, Matlab, etc.) which dCode owns rights will not be released for free. To download the online Ithkuil Language script for offline use on PC, iPhone or Android, ask for price quote on contact page !
Questions / Comments
Version Française
Summary
Similar tools
Support
Forum/Livechat

Sponsored ads
Keywords
ithkuil,language,quijada,john,philosophy
Links
Source : https://www.dcode.fr/ithkuil-language
© 2019 dCode — The ultimate 'toolkit' to solve every games / riddles / geocaches. dCode