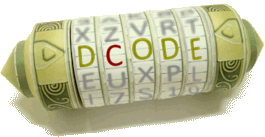 Search for a tool
Periodic Table Cipher
Tool to convert atomic numbers of the periodic classification of elements (or Mendeleiev table) into their corresponding symbol (from 1 to 3 letters).
Periodic Table Cipher - dCode
Tag(s) : Substitution Cipher, Notation System, Physics-Chemistry
Share
dCode and more
dCode is free and its tools are a valuable help in games, maths, geocaching, puzzles and problems to solve every day!
A suggestion ? a feedback ? a bug ? an idea ? Write to dCode!
Periodic Table Cipher
Periodic Table Decoder
Periodic Table Encoder
Answers to Questions (FAQ)
What is the periodic table of elements? (Definition)
How to encrypt using atomic numbers cipher?
Encryption using atomic codes consists in substituting letters (or group of letters) representing a chemical symbol by its corresponding atomic number. (Hydrogen H = 1, Helium He = 2, etc.)
Example: FUSION can be decomposed in F 9 (Fluor), U 92 (Uranium), Si 14 (Silicium), O 8 (Oxygen), N 7 Nitrogen, so 9,92,14,8,7.
All words cannot be crypted as the classification does not contain all alphabet letters. In order to increase the possibilities, it is possible to use the inverse symbols: 'He = 2' and eH = 2' (with an apostrophe) (thank you Arash / @arashimidos)
Classification was changed in 2016 and this page reflects these updates.
How to decrypt atomic numbers cipher?
Decryption requires to know the periodic table of elements (1 = H, 2 = He, etc.)
Example: 20,37,8,7 for Calcium CA, Rubidium RB, Oxygen O, Nitrogen N gives CARBON
How to recognize an atomic number substituted text?
The message is made up of numbers between 1 and 118.
The painting is associated with its author: Dmitry Ivanovich Mendeleev (sometimes written Dimitri) a Russian chemist.
The concepts of nucleus (nuclear), atomic bomb, elementary particles (proton, electrons, neutrons), chemistry, etc. are clues.
Source code
dCode retains ownership of the online "Periodic Table Cipher" source code. Except explicit open source licence (indicated CC / Creative Commons / free), the "Periodic Table Cipher" algorithm, the applet or snippet (converter, solver, encryption / decryption, encoding / decoding, ciphering / deciphering, translator), or the "Periodic Table Cipher" functions (calculate, convert, solve, decrypt / encrypt, decipher / cipher, decode / encode, translate) written in any informatic language (Python, Java, PHP, C#, Javascript, Matlab, etc.) and all data download, script, copy-paste, or API access for "Periodic Table Cipher" are not public, same for offline use on PC, tablet, iPhone or Android ! Remainder : dCode is free to use.
Need Help ?
Please, check our dCode Discord community for help requests!
NB: for encrypted messages, test our automatic cipher identifier!
Questions / Comments
Source : https://www.dcode.fr/atomic-number-substitution
© 2021 dCode — The ultimate 'toolkit' to solve every games / riddles / geocaching / CTF.