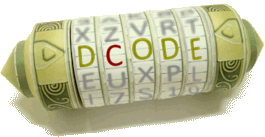 Search for a tool
Hangman Solver
Tool/Solver to find the words at hangman game. Hangman is a letter game where the goal is to discover a word by guessing which letters it contains.
Hangman Solver - dCode
Tag(s) : Word Games
Share
dCode and more
dCode is free and its tools are a valuable help in games, maths, geocaching, puzzles and problems to solve every day!
A suggestion ? a feedback ? a bug ? an idea ? Write to dCode!
Hangman Solver
Hangman resolver
Evaluation of a word's difficulty
Hangman random word picker
Answers to Questions (FAQ)
How to win at Hangman? (optimal technique)
To win at hangman game, the optimal strategy is to give the most frequent letters based on those already found.
dCode, with this hangman help/cheat tool/solver calculates statistics about letters the most frequently uses in possible words and suggest the most probable, ie. the optimal one.
Example: The hangman S-L-ER has for appropriate solutions the words SOLVER, SOLDER or SILVER.
Letters O or V are the most probable (present in 2 of 3 possible words).
If the word is not in the dictionary, the software cannot help. In this case, a tip is to start by placing the vowels.
What are Hangman variants?
By default, when playing hangman, when a player guess a letter, then if the word contains several copies of this letter, then they are all revealed to him. A classic variant is not to reveal them all, but only one per proposal.
Example: In this variant, if the word has 2 letters E, the player will have to propose twice the letter E to reveal both of them.
Which letters to propose first at Hangman?
In English, based on the frequency analysis of the letters, the letter E is the most frequent for any game up to 20 lettres. For the words of lengths that are superior to 20 letters, try E or S to start.
How to evaluate the difficulty of a word at Hangman?
The software will propose optimal letters for a game, and check how many tentative are wrong with this optimal technique.
How to draw a hangman?
The more detailed the gallow and the character, the more the player has the right to make mistakes.
Most often the drawing has 10 elements: the gallows is cut into 4 elements: 1 base, 1 vertical pole, 1 horizontal bar, then a rope, and finally a character generally broken down into 6: head, body, left arm, right arm, left foot, right foot.
Source code
dCode retains ownership of the online 'Hangman Solver' tool source code. Except explicit open source licence (indicated CC / Creative Commons / free), any 'Hangman Solver' algorithm, applet or snippet (converter, solver, encryption / decryption, encoding / decoding, ciphering / deciphering, translator), or any 'Hangman Solver' function (calculate, convert, solve, decrypt / encrypt, decipher / cipher, decode / encode, translate) written in any informatic language (Python, Java, PHP, C#, Javascript, Matlab, etc.) and no data download, script, copy-paste, or API access for 'Hangman Solver' will be for free, same for offline use on PC, tablet, iPhone or Android ! dCode is free and online.
Need Help ?
Please, check our dCode Discord community for help requests!
NB: for encrypted messages, test our automatic cipher identifier!
Questions / Comments
Source : https://www.dcode.fr/hangman-solver
© 2021 dCode — The ultimate 'toolkit' to solve every games / riddles / geocaching / CTF.