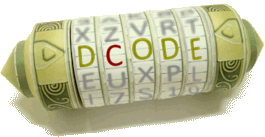 Search for a tool
Differences between 2 Texts
Tool for searching differences (diff) between two strings in order to highlight modifications made between two versions of a same text.
Differences between 2 Texts - dCode
Tag(s) : Data Processing
Share
dCode and more
dCode is free and its tools are a valuable help in games, maths, geocaching, puzzles and problems to solve every day!
A suggestion ? a feedback ? a bug ? an idea ? Write to dCode!
Differences between 2 Texts
Text Documents Comparator
Answers to Questions (FAQ)
How to search for differences between texts?
Enter both texts to compare, it is possible to make copy and paste in the fields if the text comes from a file. dCode compares commonalities (or not). The different elements (added, deleted or unchanged) are then highlighted.
Word-by-word comparison mode
Example: Example of changed text.
Character level comparison mode
Example: Example of changed text.
Why comparing 2 documents?
This comparator program can be used for spell checking (result of a dictation, for example)
Successive versions in the software development phases need to list and understand corrections in source codes to improve it.
Collaboration in document editing also uses the difference between two texts to list the changes made by each partner.
How to compare two web sites?
It all depends on what needs to be compared. It is possible to select the text of the content of the site or to use its source code.
How to compare two files?
Only the textual content of the file can be compared. To compare bit by bit, use hexadecimal format.
Source code
dCode retains ownership of the "Differences between 2 Texts" source code. Except explicit open source licence (indicated Creative Commons / free), the "Differences between 2 Texts" algorithm, the applet or snippet (converter, solver, encryption / decryption, encoding / decoding, ciphering / deciphering, translator), or the "Differences between 2 Texts" functions (calculate, convert, solve, decrypt / encrypt, decipher / cipher, decode / encode, translate) written in any informatic language (Python, Java, PHP, C#, Javascript, Matlab, etc.) and all data download, script, or API access for "Differences between 2 Texts" are not public, same for offline use on PC, tablet, iPhone or Android !
The copy-paste of the page "Differences between 2 Texts" or any of its results, is allowed as long as you cite the online source https://www.dcode.fr/differences-2-texts
Reminder : dCode is free to use.
Summary
Similar pages
Support
Forum/Help

Keywords
difference,diff,text,hdiff,compare,comparison,comparator,word,character
Links
Source : https://www.dcode.fr/differences-2-texts
© 2022 dCode — The ultimate 'toolkit' to solve every games / riddles / geocaching / CTF.
▲