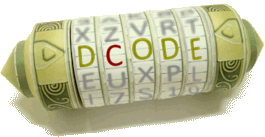 Search for a tool
Date Format
Tool for converting dates from day, month and year to formats like European dd/mm/yyyy or other forein country.
Date Format - dCode
Tag(s) : Date and Time
Share
dCode and more
dCode is free and its tools are a valuable help in games, maths, geocaching, puzzles and problems to solve every day!
A suggestion ? a feedback ? a bug ? an idea ? Write to dCode!
Date Format
Date Format Converter (International)
Answers to Questions (FAQ)
What is a date format? (Definition)
The date is a piece of temporal data relating to a beginning (year 1) and whose writing varies according to the countries and cultures which have therefore generated, during their existence, different date writing formats. Even today, different scriptures persist.
How to convert a date according to the countries' standards?
Bay convention, dd is the day number, mm is the month number, yyyy is the 4-digit year number and yy the last 2 digits of the year number.
Example: The Friday 31st of December 1999 or 12-31-1999 can be also written: Friday, Dec 31st 1999, December 31, 1999, 31-Dec-1999, 12-31-1999 (mm-dd-yyyy), 1999-12-31 (yyyy-mm-dd), etc.
dCode converter is limited to the years between 1970 and 2037 (32bits date standard).
What is the correct date standard format?
In 1988, the ISO8601 was created to avoid any risk of confusion during communications between international users. This standard specifies that the date format should be yyyy-mm-dd.
What are common date formats?
— dd/mm/yyyy is the usual format in Germany, Argentina, Australia, Belgium, Brazil, Croatia, Denmark, Spain, France, Greece, India, Ireland, Italy, Netherlands, Poland, Portugal, United Kingdom , Russia, Sweden or European Union documents
— mm/dd/yy or mm/dd/yyyy is the most common format in the United States
— yyyy-mm-dd is the universally used format in computing and databases and is used in South Africa, Saudi Arabia, China, United Arab Emirates, Japan, Norway, Qatar, Sweden or Taiwan. It has the advantage of allowing intuitive date sorting (considering the date as an 8-digit number, a past date will have a lower number than a present or future date - ISO 8601 standard)
The dates are sometimes completed by the name of the day or even the time and/or the time zone.
Source code
dCode retains ownership of the "Date Format" source code. Except explicit open source licence (indicated Creative Commons / free), the "Date Format" algorithm, the applet or snippet (converter, solver, encryption / decryption, encoding / decoding, ciphering / deciphering, breaker, translator), or the "Date Format" functions (calculate, convert, solve, decrypt / encrypt, decipher / cipher, decode / encode, translate) written in any informatic language (Python, Java, PHP, C#, Javascript, Matlab, etc.) and all data download, script, or API access for "Date Format" are not public, same for offline use on PC, mobile, tablet, iPhone or Android app!
Reminder : dCode is free to use.
Cite dCode
The copy-paste of the page "Date Format" or any of its results, is allowed (even for commercial purposes) as long as you cite dCode!
Exporting results as a .csv or .txt file is free by clicking on the export icon
Cite as source (bibliography):
Date Format on dCode.fr [online website], retrieved on 2023-09-23, https://www.dcode.fr/date-format
https://www.dcode.fr/date-format
© 2023 dCode — The ultimate 'toolkit' to solve every games / riddles / geocaching / CTF.
▲