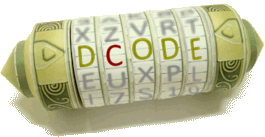 Search for a tool
Latin Date
Tool for writing a date in Latin (and in Roman numerals). The writing of a date according to the Latin language is different from that of a date in English.
Latin Date - dCode
Tag(s) : Date and Time, Fun/Miscellaneous
Share
dCode and more
dCode is free and its tools are a valuable help in games, maths, geocaching, puzzles and problems to solve every day!
A suggestion ? a feedback ? a bug ? an idea ? Write to dCode!
Latin Date
Latin Date Converter
Answers to Questions (FAQ)
How to write a date in latin?
The Latins had 12 months (similar to ours) and 7 days in a week but had the particularity of having 3 days in the month that were fixed from which the dates were described: kalendes, nonas and idus.
Example: The 1st of February is the day of the Calendes of February or Kalendis Februariis
Example: The 31st of March is the day before the Calendes of April so Pridie Kalendas Apriles
For the days between the fixed days, they counted the number of days remaining, by an ordinal numeral adjective, prefixed with Ante Diem (or a.d. ).
To this is added a temporal reference (from which the count starts) which is either AD (Anno Domini) ie. the year 1 (birth of Jesus Christ) or Ab Urbe condita (year 753 BC, date of the foundation of Rome)
What are the names of days of the week in latin?
The names of the days are etymologically very close to ours:
| | |
| --- | --- |
| Dies Lunae | Monday (Day of the Moon) |
| Dies Martis | Tuesday (Day of March) |
| Dies Mercuris | Wednesday (Mercury Day) |
| Dies Jovis | Thursday (Day of Jupiter) |
| Dies Veneris | Friday (Day of Venus) |
| Dies Saturni | Saturday (Saturnday) |
| Dies Solis | Sunday (Day of the Sun) |
The word Dies corresponds to the word day.
What are the names of months in latin?
Name of months are also close to ours:
| | |
| --- | --- |
| Martius | Marchs |
| Aprilis | April |
| Maius | May |
| Junius | June |
| Julius | July |
| Augustus | August |
| September | September |
| October | October |
| November | November |
| December | Décember |
| Januarius | January |
| Februarius | February |
What are the dates of Kalendes, Ides and Nones?
Calendes are always the first day of the month.
The Nones are the 5th day except in March, May, July and October where they are the 7th day.
The Ides are the 13th day except in March, May, July and October where they are the 15th day.
Source code
dCode retains ownership of the online "Latin Date" source code. Except explicit open source licence (indicated CC / Creative Commons / free), the "Latin Date" algorithm, the applet or snippet (converter, solver, encryption / decryption, encoding / decoding, ciphering / deciphering, translator), or the "Latin Date" functions (calculate, convert, solve, decrypt / encrypt, decipher / cipher, decode / encode, translate) written in any informatic language (Python, Java, PHP, C#, Javascript, Matlab, etc.) and all data download, script, copy-paste, or API access for "Latin Date" are not public, same for offline use on PC, tablet, iPhone or Android ! Remainder : dCode is free to use.
Need Help ?
Please, check our dCode Discord community for help requests!
NB: for encrypted messages, test our automatic cipher identifier!
Questions / Comments
Source : https://www.dcode.fr/latin-date
© 2021 dCode — The ultimate 'toolkit' to solve every games / riddles / geocaching / CTF.