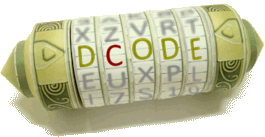 Search for a tool
CPBitmap Image
Tool to convert cpBitmap files. cpBitmap is a proprietary format for image files used by Apple devices running iOS (iPhone, iPad)
CPBitmap Image - dCode
Tag(s) : Image Processing
Share
dCode and more
dCode is free and its tools are a valuable help in games, maths, geocaching, puzzles and problems to solve every day!
A suggestion ? a feedback ? a bug ? an idea ? Write to dCode!
CPBitmap Image
cpBitmap File Converter
Answers to Questions (FAQ)
What is a .cpbitmap file format?
The cpbitmap format is used by Apple on iDevices such as the iPhone or the iPad. Technically simple (no compression), it is used, on some iOS (Apple operating systems), to save images.
Example: Files such as LockBackground.cpbitmap (background image for the lockscreen) or HomeBackground.cpbitmap (background image for icons' dock) are in cpbitmap format.
Similar to Bitmap (BMP) format cpbitmap images are encoded over 3 RGB channels (Red, Green, Blue) in reverse order (the first pixels are on the bottom left of the image and information on the image size are at the end).
How to open/read a .cpbitmap file?
The cpbitmap format is an image format used on iPhones or iPads, but Apple does not offer a reader or viewing app. The only way to open .cpbitmap files is to convert them to JPG or PNG format.
Why my file is not converted?
There have been several versions of the Cpbitmap format and not all of them are supported. In addition, some images are encrypted and not readable, the program displays an error and can not convert it to PNG or JPG. Finally, images of several million pixels will cause a memory error.
Source code
dCode retains ownership of the online "CPBitmap Image" source code. Except explicit open source licence (indicated CC / Creative Commons / free), the "CPBitmap Image" algorithm, the applet or snippet (converter, solver, encryption / decryption, encoding / decoding, ciphering / deciphering, translator), or the "CPBitmap Image" functions (calculate, convert, solve, decrypt / encrypt, decipher / cipher, decode / encode, translate) written in any informatic language (Python, Java, PHP, C#, Javascript, Matlab, etc.) and all data download, script, copy-paste, or API access for "CPBitmap Image" are not public, same for offline use on PC, tablet, iPhone or Android ! Remainder : dCode is free to use.
Need Help ?
Please, check our dCode Discord community for help requests!
NB: for encrypted messages, test our automatic cipher identifier!
Questions / Comments
Summary
Similar pages
Support
Forum/Help

Keywords
cpbitmap,apple,ios,iphone,ipad,lockbackground,homebackground
Links
Source : https://www.dcode.fr/cpbitmap-format
© 2021 dCode — The ultimate 'toolkit' to solve every games / riddles / geocaching / CTF.