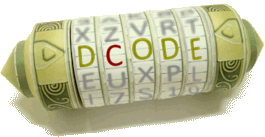 Search for a tool
Caesar Box Cipher
Tool to decrypt/encrypt with Caesar square. Caesar Box is a transposition cipher used in the Roman Empire, in which letters of the message are written in lines in a square (or a rectangle) and then, read by column.
Caesar Box Cipher - dCode
Tag(s) : Transposition Cipher
Share
dCode and more
dCode is free and its tools are a valuable help in games, maths, geocaching, puzzles and problems to solve every day!
A suggestion ? a feedback ? a bug ? an idea ? Write to dCode!
Caesar Box Cipher
Caesar Box Decoder
Caesar Box Encoder
Answers to Questions (FAQ)
How to encrypt using Caesar Box cipher?
Caesar Box Encryption uses a box, a rectangle (or a square), or at least a size W characterizing its width (that corresponds to the number of column of text)
Example: Take W=3 and the message to encrypt DCODE.
The message is written by lines and every W characters, go to a new line. This will delimitate a box of characters.
If needed, the last line can be completed with another character, e.g. X or _.
The encrypted message is obtained by reading the box by column.
Example: The cipher text is DDCEO_
How to decrypt Caesar Box cipher?
Caesar Box decryption requires to know the dimensions of the box (width W by height H)
Example: Take W=3, and the ciphertext is CSAAER which is 6-character long, then H=2 (as 6/3=2).
Write the text in column in the box. The plain text appears by reading each line.
Example: The original plain text is CAESAR.
How to recognize Caesar Box ciphertext?
The Caesar box is a transposition cipher, so the coincidence index is the same as that of the plain text.
If the length of the message is a perfect square, it is a good clue.
This cipher appears in many movies or books, the most known are the scytale (parchment / ribbon from Sparta, Greece), the cipher used in Journey to the center of the Earth from Jules Verne (Arne Saknussemm's cryptogram), etc.
How to decipher Caesar Box without the size?
One can crack Caesar Box by testing all possible size of the rectangle.
Sometimes the message has a square number of characters (16 = 4.4 or 25 = 5 * 5 or 36 = 6 * 6, etc.), which makes it possible to deduce the size of the square, but sometimes it is a totally different number of characters.
What are the variants of the Caesar Box cipher?
When the box is a perfect square, encryption and decryption are identical.
The scytale is the other name of this cipher.
When Caesar Box have been invented?
This encryption is similar to that of the scytale cipher, which have appeared in Greece, between the 10th and 7th centuries B.C., a long time before romans and Caesar (Caius Iulius).
Source code
dCode retains ownership of the "Caesar Box Cipher" source code. Except explicit open source licence (indicated Creative Commons / free), the "Caesar Box Cipher" algorithm, the applet or snippet (converter, solver, encryption / decryption, encoding / decoding, ciphering / deciphering, translator), or the "Caesar Box Cipher" functions (calculate, convert, solve, decrypt / encrypt, decipher / cipher, decode / encode, translate) written in any informatic language (Python, Java, PHP, C#, Javascript, Matlab, etc.) and all data download, script, or API access for "Caesar Box Cipher" are not public, same for offline use on PC, tablet, iPhone or Android !
The copy-paste of the page "Caesar Box Cipher" or any of its results, is allowed as long as you cite the online source https://www.dcode.fr/caesar-box-cipher
Reminder : dCode is free to use.
Source : https://www.dcode.fr/caesar-box-cipher
© 2022 dCode — The ultimate 'toolkit' to solve every games / riddles / geocaching / CTF.
▲