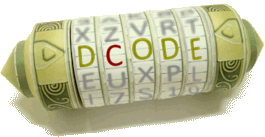 Search for a tool
T9 (Text Message)
Tool to decrypt/encrypt with T9 mode for SMS messages on mobile phone. T9 (Text on 9 keys) is a predictive text method based on a dictionary, used in mobile phones to type text on a keyboard with only numeric keys
T9 (Text Message) - dCode
Tag(s) : Telecom, Substitution Cipher
Share
dCode and more
dCode is free and its tools are a valuable help in games, maths, geocaching, puzzles and problems to solve every day!
A suggestion ? a feedback ? a bug ? an idea ? Write to dCode!
T9 (Text Message)
T9 Decoder/Phonewords Finder
T9 Encoder
Textonym list
Tool to decrypt/encrypt with T9 mode for SMS messages on mobile phone. T9 (Text on 9 keys) is a predictive text method based on a dictionary, used in mobile phones to type text on a keyboard with only numeric keys
Answers to Questions
How to encrypt using T9 cipher?
T9 encryption replaces a letter by the corresponding key code on a mobile phone keypad (compatible with Text on 9 keys).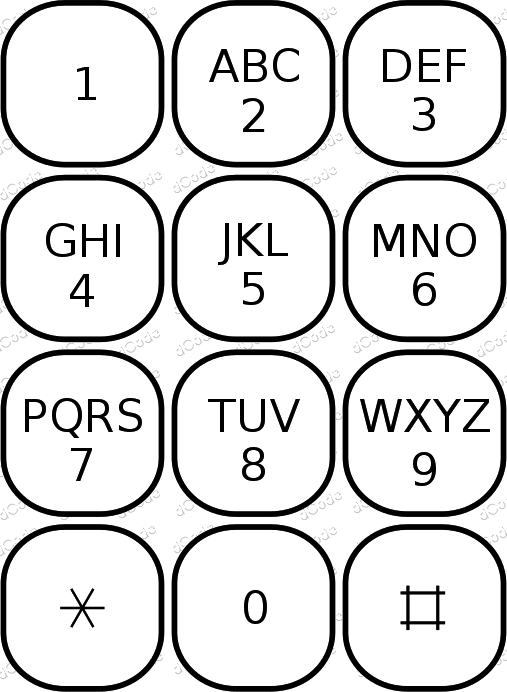 Example: DCODE becomes 32633
Do not confuse the T9 with the multi-tap code (successively press the keys until you get the correct letter)
How to decrypt T9 cipher?
The decryption of the T9 is normally based on a dictionary where all the words have been previously encoded.
It is normally impossible to write a word that does not exist but the dCode T9 translator in brute-force mode will test all the possibilities of words.
Example: 22 = AA,AB,AC,BA,BB,BC,CA,CB,CC
This functionality allows creating or remembering phonewords for phone number avoiding digits 0 and 1.
How to recognize T9 ciphertext?
The ciphered message is made of digits, if there are 1 or 0, these digits can only code spaces or punctuation.
What are the variants of the T9 cipher?
Mobile phones have other typing techniques (not predictive), such as Multi-tap code (ABC mode). With the same keyboard, DCODE is written 3222666333.
The T9 has proprietary versions like the XT9, the LetterWise ou the WordWise.
What is a Textonym?
A textonym is the name given to each word written in the same manner in T9. Textonym list
Example: COOL = 2665 = BOOK
Make proposals!
When T9 have been invented ?
Patent is from 1985. The T9 was popularized with SMS texting on the first old compatible GSM phones (late 90s, early 2000), but today, with smartphones/iphones and their tactile interfaces and their complete keyboard, the T9 is disappearing but it can still be used to easily code secret messages.
Source code
dCode retains ownership of the online 'T9 (Text Message)' tool source code. Except explicit open source licence (indicated CC / Creative Commons / free), any algorithm, applet or snippet (converter, solver, encryption / decryption, encoding / decoding, ciphering / deciphering, translator), or any function (convert, solve, decrypt / encrypt, decipher / cipher, decode / encode, translate) written in any informatic language (PHP, Java, C#, Python, Javascript, Matlab, etc.) no data, script or API access will be for free, same for T9 (Text Message) download for offline use on PC, tablet, iPhone or Android !
Need Help ?
Please, check our community Discord for help requests!
Questions / Comments
Source : https://www.dcode.fr/t9-cipher
© 2021 dCode — The ultimate 'toolkit' to solve every games / riddles / geocaching / CTF.