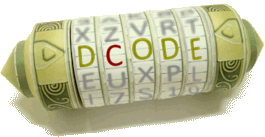 Search for a tool
Shift Cipher
Tool for automatic Shift Cipher that consists in replacing a letter by another one in the alphabet using a shifting system, a basic or complex sequence of numbers.
Shift Cipher - dCode
Tag(s) : Substitution Cipher
Share
dCode and more
dCode is free and its tools are a valuable help in games, maths, geocaching, puzzles and problems to solve every day!
A suggestion ? a feedback ? a bug ? an idea ? Write to dCode!
Shift Cipher
Successive Shifts Decoder
Successive Shifts Encoder
Answers to Questions (FAQ)
What is a Shift cipher? (Definition)
A shift cipher is a substitution cipher, the principle of which is to shift the letters by one or more values in the alphabet.
Example: The letter A shifted by 1 place in the alphabet becomes B
The Caesar cipher is a shift cipher, usually presented with a shift key of value 3.
How to encrypt using the shift cipher?
The shift cipher encryption uses an alphabet and a key (made up of one or more values) that shifts the position of its letters.
A letter in position $ N $ in the alphabet, can be shifted by $ X $ into the letter located at position $ N+X $ (This is equivalent to using a substitution with a shifted alphabet).
Example: Take the letter E in position 5 in the alphabet ABCDEFGHIJKLMNOPQRSTUVWXYZ, it will be encrypted by a shift of 3 in position 8 or H.
If the shifted position exceeds the number of letters in the alphabet, then take it at the beginning (imagine the alphabet as cyclical)
Example: Z shifted by 1 gives A.
It is thus possible to define different types of shifts, some shifts correspond to known encryption algorithms:
A single shift (all letters are shifted by the same value) is called Caesar Code.
A multiple shift, according to a sequence or a key that is repeated (the letters are shifted from each of the key values), is called Vigenere Cipher.
A mathematical shift, the easier is progressive, shifting the nth letter of the value n is the Trithemius Cipher or if the shift is more complex Affine Cipher or even Hill Cipher.
How to decrypt using the shift cipher?
Decryption requires knowing the shift used and the alphabet.
Take a letter in position N in the alphabet that has been encrypted by a shift of X, it must be shifted by -X to return to its original position N-X.
Example: The letter H in position 8 in the alphabet ABCDEFGHIJKLMNOPQRSTUVWXYZ, will be decrypted from a shift of 3 in position 8-3=5 or E.
Example: The word TIJGU is decoded with an offset of 1 as SHIFT
How to use a date as the key shift?
The shift cipher can take a date as key (called date shift cipher), generally in the formats YYYYMMDD is used as it contains a series of 8 digits which can be used as the shift key.
Example: DATECODE coded with the date 2020/10/10 or (2,0,2,0,1,0,1,0) becomes FAVEDOEE
Source code
dCode retains ownership of the "Shift Cipher" source code. Except explicit open source licence (indicated Creative Commons / free), the "Shift Cipher" algorithm, the applet or snippet (converter, solver, encryption / decryption, encoding / decoding, ciphering / deciphering, breaker, translator), or the "Shift Cipher" functions (calculate, convert, solve, decrypt / encrypt, decipher / cipher, decode / encode, translate) written in any informatic language (Python, Java, PHP, C#, Javascript, Matlab, etc.) and all data download, script, or API access for "Shift Cipher" are not public, same for offline use on PC, mobile, tablet, iPhone or Android app!
Reminder : dCode is free to use.
Cite dCode
The copy-paste of the page "Shift Cipher" or any of its results, is allowed (even for commercial purposes) as long as you cite dCode!
Exporting results as a .csv or .txt file is free by clicking on the export icon
Cite as source (bibliography):
Shift Cipher on dCode.fr [online website], retrieved on 2023-09-23, https://www.dcode.fr/shift-cipher
Summary
https://www.dcode.fr/shift-cipher
© 2023 dCode — The ultimate 'toolkit' to solve every games / riddles / geocaching / CTF.
▲