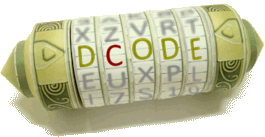 Search for a tool
Semordnilap Generator
Tool to generate and list semordnilaps. Semordnilap is a word or phrase that can be read backward, but unlike palindrome, it spells a different word or phrase depending on the reading direction, the generator allows to identify them.
Semordnilap Generator - dCode
Tag(s) : Word Games, Steganography
Share
dCode and more
dCode is free and its tools are a valuable help in games, maths, geocaching, puzzles and problems to solve every day!
A suggestion ? a feedback ? a bug ? an idea ? Write to dCode!
Semordnilap Generator
Semordnilaps Generation Helper
Answers to Questions (FAQ)
What is the list of Semordnilaps in English?
The list of words anacycliques/volvograms/reversgrams is very large, this list is not exhaustive (use the functions above to have more words), these are basic examples:
STRESSED <=> DESSERTS
DELIVER <=> REVILED
ANIMAL <=> LAMINA
DEPOTS <=> STOPED
DIAPER <=> REPAID
DRAWER <=> REWARD
LOOTER <=> RETOOL
MURDER <=> REDRUM
REDIPS <=> SPIDER
DEBUT <=> TUBED
DEEPS <=> SPEED
DEVIL <=> LIVED
PEELS <=> SLEEP
SERIF <=> FIRES
STEEL <=> LEETS
SWAP <=> PAWS
All these words exist spelled in one direction or the other.
What is the difference between a semordnilap and a palindrome?
Semordnilap can be read in both direction and can be a different one. A palindrome must be identical backward.
Example: LEVEL is a palindrome (but also a semordnilap)
Example: SEMORDNILAP is a semordnilap, which can be read PALINDROMES backward.
NB: all semordnilaps are anagrams.
What is an ambigram?
An ambigram is a writing (or drawing) that can have a 2-way reading. For example according to a symmetry, it is in a sense a graphic variant of a palindrome.
Source code
dCode retains ownership of the online 'Semordnilap Generator' tool source code. Except explicit open source licence (indicated CC / Creative Commons / free), any 'Semordnilap Generator' algorithm, applet or snippet (converter, solver, encryption / decryption, encoding / decoding, ciphering / deciphering, translator), or any 'Semordnilap Generator' function (calculate, convert, solve, decrypt / encrypt, decipher / cipher, decode / encode, translate) written in any informatic language (Python, Java, PHP, C#, Javascript, Matlab, etc.) and no data download, script, copy-paste, or API access for 'Semordnilap Generator' will be for free, same for offline use on PC, tablet, iPhone or Android ! dCode is free and online.
Need Help ?
Please, check our dCode Discord community for help requests!
NB: for encrypted messages, test our automatic cipher identifier!
Questions / Comments
Source : https://www.dcode.fr/semordnilap-generator
© 2021 dCode — The ultimate 'toolkit' to solve every games / riddles / geocaching / CTF.