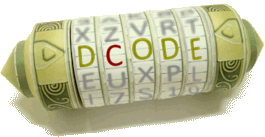 Search for a tool
Phone Number Geolocation (France Only)
Tool to locate a telephone number in France. Geolocation is made with ZABPQ and ZNE data from ARCEP (Telecommunications Regulatory Authority) avaiable for France only.
Phone Number Geolocation (France Only) - dCode
Tag(s) : Telecom, Geography
Share
dCode and more
dCode is free and its tools are a valuable help in games, maths, geocaching, puzzles and problems to solve every day!
A suggestion ? a feedback ? a bug ? an idea ? Write to dCode!
Phone Number Geolocation (France Only)
Geolocation of French Phone Number
Answers to Questions (FAQ)
How does phone number geolocation work in France?
French phone numbers are semi-structured and use a double geographic code, the first with the numbers from 01 to 05, which delimit 5 main regions in France but also and ZABPQ sub-codes (around 500) which are used to locate a geographic area close to the original location of the landline number.
Example: All landline telephone numbers (excluding VOIP internet phone) can be geolocated for free.
This page allows you to locate a landline telephone number for free. This method does not work for mobile phones staring with 06 or 07 (Warning: geolocation of a mobile phone without the owner's permission is prohibited)
To which regions does 01, 02, 03, 04 and 05 correspond to?
The 5 regions are distributed as follows:
01: Paris and Paris region
02: North West of France
03: North-east of France
04: South-east of France and Corsica
05: South West of France
The French territories of the Atlantic Ocean are in 05 and the Indian Ocean in 02.
What are international prefixes?
In order to contact international telephone numbers, a standard has made it possible to define a series of numbers identifying each country. USA is +1, United Kingdom is +44.
Source code
dCode retains ownership of the "Phone Number Geolocation (France Only)" source code. Except explicit open source licence (indicated Creative Commons / free), the "Phone Number Geolocation (France Only)" algorithm, the applet or snippet (converter, solver, encryption / decryption, encoding / decoding, ciphering / deciphering, translator), or the "Phone Number Geolocation (France Only)" functions (calculate, convert, solve, decrypt / encrypt, decipher / cipher, decode / encode, translate) written in any informatic language (Python, Java, PHP, C#, Javascript, Matlab, etc.) and all data download, script, or API access for "Phone Number Geolocation (France Only)" are not public, same for offline use on PC, tablet, iPhone or Android !
The copy-paste of the page "Phone Number Geolocation (France Only)" or any of its results, is allowed as long as you cite the online source https://www.dcode.fr/phone-number-geolocation
Reminder : dCode is free to use.
Summary
Similar pages
Support
Forum/Help

Keywords
number,phone,geolocation,france,zabpq
Links
Source : https://www.dcode.fr/phone-number-geolocation
© 2022 dCode — The ultimate 'toolkit' to solve every games / riddles / geocaching / CTF.
▲