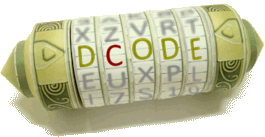 Search for a tool
PBKDF2 Hash
Tool to encrypt a password with hash functions for PBKDF2 (SHA256, SHA512) and store a password securely.
PBKDF2 Hash - dCode
Tag(s) : Modern Cryptography
Share
dCode and more
dCode is free and its tools are a valuable help in games, maths, geocaching, puzzles and problems to solve every day!
A suggestion ? a feedback ? a bug ? an idea ? Write to dCode!
PBKDF2 Hash
PBKDF2 Decoder
PBKDF2 decryption functions are not available on dCode (see FAQ)
PBKDF2 Encoder
Answers to Questions (FAQ)
What is PBKDF2? (Definition)
PBKDF2 (for Password-Based Key Derivation Function 2) is a password-based key derivation algorithm. It is often used to store passwords securely.
How to encrypt using PBKDF2?
PBKDF2 takes a password and salt/salt (a random string of characters) as input, then applies a hash function (usually SHA-1, SHA-256, or SHA-512) iteratively (the number of iterations /rounds is configurable).
Example: PBKDF2() function with sha256 algorithm for password password with salt salt and 1000 iterations returns ba10bd7df33a80626ef566c768b6437f6080cc587e53cbbb297bf009eb31c631
How to decrypt PBKDF2?
The only way to decipher a hash encoded by PBKDF2 is therefore to try all the passwords, with all the salts.
Since this work is gigantic and endless (several years) with a sufficiently long salt chain and a large number of iterations, dCode does not offer this functionality.
How to recognize a PBKDF2 ciphertext? (Identification)
The data generated by PBKDF2 is binary, often stored as hexadecimal values whose length depends on the algorithm used.
The Python library Passlib offers a storage format: $pbkdf2-algo$rounds$salt_b64$hash_b64
The Django CMS uses a similar format: pbkdf2_algo$rounds$salt$hash_b64
Source code
dCode retains ownership of the "PBKDF2 Hash" source code. Except explicit open source licence (indicated Creative Commons / free), the "PBKDF2 Hash" algorithm, the applet or snippet (converter, solver, encryption / decryption, encoding / decoding, ciphering / deciphering, breaker, translator), or the "PBKDF2 Hash" functions (calculate, convert, solve, decrypt / encrypt, decipher / cipher, decode / encode, translate) written in any informatic language (Python, Java, PHP, C#, Javascript, Matlab, etc.) and all data download, script, or API access for "PBKDF2 Hash" are not public, same for offline use on PC, mobile, tablet, iPhone or Android app!
Reminder : dCode is free to use.
Cite dCode
The copy-paste of the page "PBKDF2 Hash" or any of its results, is allowed (even for commercial purposes) as long as you cite dCode!
Exporting results as a .csv or .txt file is free by clicking on the export icon
Cite as source (bibliography):
PBKDF2 Hash on dCode.fr [online website], retrieved on 2023-09-27, https://www.dcode.fr/pbkdf2-hash
Summary
Similar pages
Support
Forum/Help

Keywords
pbkdf2,mot,passe,password,sha256,sha512
Links
https://www.dcode.fr/pbkdf2-hash
© 2023 dCode — The ultimate 'toolkit' to solve every games / riddles / geocaching / CTF.
▲