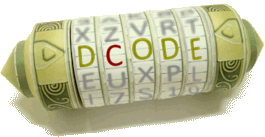 Search for a tool
Navajo Code
Tool to decrypt/encrypt with Navajo. The Navajo code is a military language inspired by the Navajo population. It consists of a vocabulary for military purposes (code talkers) and an alphabet.
Navajo Code - dCode
Tag(s) : Substitution Cipher, History
Share
dCode and more
dCode is free and its tools are a valuable help in games, maths, geocaching, puzzles and problems to solve every day!
A suggestion ? a feedback ? a bug ? an idea ? Write to dCode!
Navajo Code
Navajo Code Translator
Navajo Encoder
Answers to Questions (FAQ)
How to encrypt using Navajo cipher?
The Navajo code is made of a dictionary that contains words of English military vocabulary, and words that translate letters. Encryption is a substitution of words or characters of a text in the Navajo dialect.
Some letters have several translations in Najavo code, dCode selects one at random.
In practice dCode limited to the substitution of alphabetic characters, English vocabulary is not treated.
Example: FRANCE can be translated directly with DA-GHA-HI but FRANCE can also be translated letter by letter F,R,A,N,C,E : TSA-E-DONIN-EE, DAH-NES-TSA, BE-LA-SANA, TSAH BA-GOSHI, DZEH
Do not confuse the Navajo language (used by the navajo people) with the Navajo code (used by the US military, described on this page)
How to decrypt Navajo cipher?
Decryption consists in identifying words of in Navajo language and translate then. In practice dCode search if vocabulary words are included in the message, then tries letters.
Example: NA-NIL-IN means confidential
Example: US-DZOH means dash (in English) and is converted to - (punctuation)
The Navajo language uses hyphens, if the message does not contain any, dCode will try to correctly find them in Navajo (with a hyphen), but the outcome is not perfect.
Example: LHA-CHA-EH BA-GOSHI NE-AHS-JAH CHINDI AH-NAH is translated by DCODE
How to recognize Navajo ciphertext?
The ciphered message is composed of characteristic sounds such as TSA, DAH, DZEH.
Any reference to the Native American Navajo tribe is a clue.
What is the origin of Navajo?
The Navajo code was originally an Indian tribe language only spoken. Unlike any other language, the verb does not relay on the subject but also with the genitive. This dialect is extremely complex. In 1942, only 28 Americans understand it and speak it. It will be used by the Americans during the war against the Japanese. This is one of the few codes of history that will never be cracked.
When Navajo code has been invented?
The language is very old, but the code has been set during World War II.
Source code
dCode retains ownership of the online "Navajo Code" source code. Except explicit open source licence (indicated CC / Creative Commons / free), the "Navajo Code" algorithm, the applet or snippet (converter, solver, encryption / decryption, encoding / decoding, ciphering / deciphering, translator), or the "Navajo Code" functions (calculate, convert, solve, decrypt / encrypt, decipher / cipher, decode / encode, translate) written in any informatic language (Python, Java, PHP, C#, Javascript, Matlab, etc.) and all data download, script, copy-paste, or API access for "Navajo Code" are not public, same for offline use on PC, tablet, iPhone or Android ! Remainder : dCode is free to use.
Need Help ?
Please, check our dCode Discord community for help requests!
NB: for encrypted messages, test our automatic cipher identifier!
Questions / Comments
Summary
Source : https://www.dcode.fr/navajo-code
© 2021 dCode — The ultimate 'toolkit' to solve every games / riddles / geocaching / CTF.