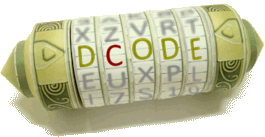 Search for a tool
Nak Nak (Duckspeak)
Tool for coding / encoding with Nak Nak, a cipher simulating the language of ducks (Duckspeak) composed of the syllables NA and NAK
Nak Nak (Duckspeak) - dCode
Tag(s) : Substitution Cipher
Share
dCode and more
dCode is free and its tools are a valuable help in games, maths, geocaching, puzzles and problems to solve every day!
A suggestion ? a feedback ? a bug ? an idea ? Write to dCode!
Nak Nak (Duckspeak)
Nak Nak Decoder
Nak Nak Encoder
Answers to Questions (FAQ)
How to encrypt using Nak-Nak cipher?
Nak-Nak encryption uses the base 16 hexadecimal to encode messages themselves encoded with the ASCII table.
Example: Encode the DUCK message, start by encoding it in ASCII (hexadecimal) i.e. 44,75,63,6B then, for each digit, replace it with its corresponding one in the following table:
0 = Nak
1 = Nanak
2 = Nananak
3 = Nanananak
4 = Nak?
5 = nak?
6 = Naknak
7 = Naknaknak
8 = Nak.
9 = Naknak.
A (10) = Naknaknaknak
B (11) = nanak
C (12) naknak
D (13) nak!
E (14) nak.
F (15) naknaknak
Example: DUCK ('44,75,63,6B 'in ASCII) is coded as 4=Nak? 4=Nak? 7=Naknaknak 5=nak? and so on: Nak? Nak? Naknaknak nak? Naknak Nanananak Naknak nanak
How to decrypt Nak-Nak cipher?
The decryption of the Nak-Nak begins with the substitution of the different words Nak by the associated number in the table.
Example: Naknak Nak? Nak? Nanananak Naknak naknaknak Naknak Nak? Naknak nak? is constituted of Naknak=6, Nak?=4 etc. so 6,4,4,3,6,F,6,4,6,5
The resulting code is the ASCII code in hexadecimal format of the original message.
Example: 64,43,6F,64,65 is decoded d,C,o,d,e in ASCII code. dCode is the clear starting message.
How to recognize a Nak-Nak ciphertext?
The message consists of the sometimes repeated syllables Nak and Na. All words start with N and end with k.
Any reference to a duck or duckspeak are clues.
What is the Coink/Couink variant?
According to the preferences of some, ducks rather make Coin than Nak, this variant modifies Na in Coin or Couin.
Source code
dCode retains ownership of the "Nak Nak (Duckspeak)" source code. Except explicit open source licence (indicated Creative Commons / free), the "Nak Nak (Duckspeak)" algorithm, the applet or snippet (converter, solver, encryption / decryption, encoding / decoding, ciphering / deciphering, breaker, translator), or the "Nak Nak (Duckspeak)" functions (calculate, convert, solve, decrypt / encrypt, decipher / cipher, decode / encode, translate) written in any informatic language (Python, Java, PHP, C#, Javascript, Matlab, etc.) and all data download, script, or API access for "Nak Nak (Duckspeak)" are not public, same for offline use on PC, mobile, tablet, iPhone or Android app!
Reminder : dCode is free to use.
Cite dCode
The copy-paste of the page "Nak Nak (Duckspeak)" or any of its results, is allowed (even for commercial purposes) as long as you cite dCode!
Exporting results as a .csv or .txt file is free by clicking on the export icon
Cite as source (bibliography):
Nak Nak (Duckspeak) on dCode.fr [online website], retrieved on 2023-10-01, https://www.dcode.fr/nak-nak-duckspeak
Summary
Similar pages
Support
Forum/Help

Keywords
nak,nanak,naknak,duck,duckspeak
Links
https://www.dcode.fr/nak-nak-duckspeak
© 2023 dCode — The ultimate 'toolkit' to solve every games / riddles / geocaching / CTF.
▲