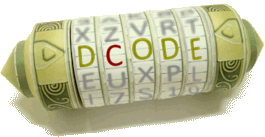 Search for a tool
Letter Boxed
Tool to solve 'Letter Boxed' type word games, mixing word search from letters on a square and a bunch of constraints.
Letter Boxed - dCode
Tag(s) : Word Games
Share
dCode and more
dCode is free and its tools are a valuable help in games, maths, geocaching, puzzles and problems to solve every day!
A suggestion ? a feedback ? a bug ? an idea ? Write to dCode!
Letter Boxed
Letter Boxed Solver
Answers to Questions (FAQ)
What is letter Boxed? (Definition)
Letter Boxed is a word game popularized by the New York Times website (and the advent of Wordle). Presented in the form of a square with 3 letters per side, the player must compose words in order to use all the letters in the square.
There are also a few rules: words must be at least 3 letters long, words must be connected (the last letter of the previous word must be the same as the next word), letters can be reused but 2 consecutive letters cannot be on the same side of the square.
See the original daily game LetterBoxed here (link)
How to use the Letter Boxed solver?
Indicate the letters on each side of the squares, the order of the letters is not important, but ideally, from left to right for the letters at the top and bottom of the square and from top to bottom for the letters on the right sides and left of the square.
Then indicate the dictionary used: some words are not accepted by the game even though they do exist in the dictionary.
Indicate the number of words targeted, there is (almost?) always a solution in 2 words or less.
Click on solve to display the list of possible solutions.
Source code
dCode retains ownership of the "Letter Boxed" source code. Except explicit open source licence (indicated Creative Commons / free), the "Letter Boxed" algorithm, the applet or snippet (converter, solver, encryption / decryption, encoding / decoding, ciphering / deciphering, translator), or the "Letter Boxed" functions (calculate, convert, solve, decrypt / encrypt, decipher / cipher, decode / encode, translate) written in any informatic language (Python, Java, PHP, C#, Javascript, Matlab, etc.) and all data download, script, or API access for "Letter Boxed" are not public, same for offline use on PC, mobile, tablet, iPhone or Android app!
Reminder : dCode is free to use.
Cite dCode
The copy-paste of the page "Letter Boxed" or any of its results, is allowed as long as you cite dCode!
Cite as source (bibliography):
Letter Boxed on dCode.fr [online website], retrieved on 2022-08-08, https://www.dcode.fr/letter-boxed-solver
Summary
Similar pages
Support
Forum/Help

Keywords
letter,boxed,letterboxed,nyt,square
Links
https://www.dcode.fr/letter-boxed-solver
© 2022 dCode — The ultimate 'toolkit' to solve every games / riddles / geocaching / CTF.
▲