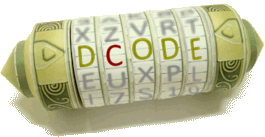 Search for a tool
Common Point
Tool to search common point between 2 items. Searching the common point between 2 things or people is often use to test general knowledge
Common Point - dCode
Tag(s) : Data Processing
Share
dCode and more
dCode is free and its tools are a valuable help in games, maths, geocaching, puzzles and problems to solve every day!
A suggestion ? a feedback ? a bug ? an idea ? Write to dCode!
Common Point
Search for common points between...
Tool to search common point between 2 items. Searching the common point between 2 things or people is often use to test general knowledge
Answers to Questions
How to find common point between elements?
The dCode program reads Wikipedia pages as data source and extract common data between articles (object, person, place, thing, etc.) to detect common points and similar relationships. The comparison uses semantic networks.
Common concepts are listed in order of importance, this can be a word or word group that links the two. The comparison uses semantic networks.
Example: orange and kiwi have for common point the concept of fruit but also color
Be sure to choose the right Wikipedia pages that describe the concept to compare (avoid disambiguation pages), it is also possible to perform the same operation in another language (sometimes the article is more detailed).
What is a semantic network?
A semantic network is a representation of knowledge in the form of a graph comprising relations between the elements.
Source code
dCode retains ownership of the online 'Common Point' tool source code. Except explicit open source licence (indicated CC / Creative Commons / free), any algorithm, applet or snippet (converter, solver, encryption / decryption, encoding / decoding, ciphering / deciphering, translator), or any function (convert, solve, decrypt / encrypt, decipher / cipher, decode / encode, translate) written in any informatic language (PHP, Java, C#, Python, Javascript, Matlab, etc.) no data, script or API access will be for free, same for Common Point download for offline use on PC, tablet, iPhone or Android !
Need Help ?
Please, check our community Discord for help requests!
Questions / Comments
Lire en Français
Summary
Similar tools
Support
Forum/Help

Keywords
common,point,between,similar,wikipedia,compare,thing,person,people
Links
Source : https://www.dcode.fr/common-point
© 2021 dCode — The ultimate 'toolkit' to solve every games / riddles / geocaching / CTF.