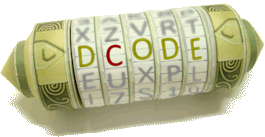 Search for a tool
Irreducible Fractions
Tool to reduce a fraction in lowest term. A Fraction in Lowest Terms (Irreducible Fraction) is a reduced fraction in shich the numerator and the denominator are coprime (they do not share common factors)
Results
Irreducible Fractions - dCode
Tag(s) : Arithmetics,Symbolic Computation,Mathematics
dCode and you
dCode is free and its tools are a valuable help in games, puzzles and problems to solve every day!
You have a problem, an idea for a project, a specific need and dCode can not (yet) help you? You need custom development? Contact-me!
This page is using the new English version of dCode, please make comments !
Irreducible Fractions
Sponsored ads

This script has been updated, please report any problems.
Simplify in Irreducible Fractions
Decimal to Fraction in Lowest Term Converter
Tool to reduce a fraction in lowest term. A Fraction in Lowest Terms (Irreducible Fraction) is a reduced fraction in shich the numerator and the denominator are coprime (they do not share common factors)
Answers to Questions
How to make a fraction in lowest term?
How to calculate and give the result under the lowest term form?
dCode uses formal calculations in order to keep variables and find the irreducible form.
How to make a fraction from a decimal number?
If the number has a limited decimal development then it only needs to be multiplied by the right power of 10

, then simplify the fraction and solve the equation

.
0.14 = 0.14/1 = 1.4/10 = 14/100 = 7/50
if the number has a non finite development, then one has to find the repeated portion.
0.166666666... the 6 is repeated infinitely
Let the number be x, one multiplies it by by 10 power the repeated portion length, before subtraction the two and solve the equation

.
x = 0.1666666.. and 10x = 1.6666666... so 10x-x = 9x = 1.666666... - 0.1666666... = 1.5
9x = 1.5 so x = 1.5/9 = 15/90 = 1/6.
Source code
dCode retains ownership of the source code of the script Irreducible Fractions. Except explicit open source licence (free / freeware), any algorithm, applet, software (converter, solver, encryption / decryption, encoding / decoding, ciphering / deciphering, translator), or any snippet or function (convert, solve, decrypt, encrypt, decipher, cipher, decode, code, translate) written in PHP (or Java, C#, Python, Javascript, etc.) which dCode owns rights can be transferred after sales quote. So if you need to download the Irreducible Fractions script for offline use, for you, your company or association, see you on contact page !
Questions / Comments
Source : http://www.dcode.fr/irreductible-fraction
© 2017 dCode — The ultimate 'toolkit' website to solve every problem. dCode